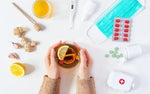 The medicinal importance of honey and its healing properties, has been documented in the world's oldest medical literatures and in Auryveda since the ancient times. It has been known to possess antibacterial and anti-inflammatory properties and is called nature's natural antibiotic. 
Holistic practitioners consider it one of nature's best all-around remedies as it is loaded with nutrients, antioxidants, flavonoid 's and healing compounds. Made by the alchemy of bees collecting nectar, pollen, and resins from flowers, honey can help moisturize, fight aging, and fight bacteria. 
Health Benefits:
Honey contains flavonoids, antioxidants which when taken regularly keep people healthy. 
It is known to reduce ulcers and other gastrointestinal disorders. Recent research shows that honey treatment may help disorders such as ulcers and bacterial gastroenteritis. 
It is anti-bacterial, anti-fungal, anti-fungal: "All honey is antibacterial, because the bees add an enzyme that makes hydrogen peroxide," said Peter Molan, director of the Honey Research Unit at the University of Waikato in New Zealand.
Increase athletic performance. Ancient Olympic athletes would eat honey and dried figs to enhance their performance. This has now been verified with modern studies, showing that it is superior in maintaining glycogen levels and improving recovery time than other sweeteners.
Reduce cough and throat irritation:
Honey helps with coughs, particularly Eucalyptus or Buckwheat honey. Researchers have found that a small dose of honey given before bedtime provided better relief of night time cough and sleep difficulty in children than no treatment or dextromethorphan (DM), a cough suppressant found in many over-the-counter cold medications.(Footnote:1,2) The American Academy of Pediatrics and the World Health Organizations both recommend honey as an effective cough suppressant.(Foot note 3) Honey offers an effective and natural alternative to over-the-counter cough medicine. 
Foot notes
Paul IM, et al. Effect of honey, dextromethorphan, and no treatment on nocturnal cough and sleep quality for coughing children and their parents. Archives of Pediatric and Adolescent Medicine, 161(12) 
Cohen HA, et al. Effect of honey on nocturnal cough and sleep quality: d double-blind, randomized, placebo-controlled study. Pediatrics, Volume 130, Number 3
Department of Child and Adolescent Health. Cough and Cold Remedies for the Treatment of Acute Respiratory Infections in Young Children. Geneva, Switzerland: World Health Organization; 2001.