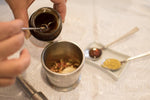 It's pouring cats and dogs outside, with strikes of thunder and lightning outside. Hearing my sniffle, Mom rushes to make an age-old recipe of grandma's tea infused with honey. Hinting at the sudden change in weather, the aroma of the brewing tea warms my insides. Most people run to take shelter under trees, and shop roofs, while I munch on my bhajia and sip on my warm honey tea. Well, the monsoons bring a lot of infections, coughs, colds, and whatnot. 
Coughing is generally normal. In fact, coughing actually helps you clear irritants, infections and phlegm from your throat. However uninterrupted or persistent coughing is bothersome and a symptom of different medical conditions, such as a  viral or bacterial infection, or an allergy. 
If a cough is severe or continues for a few weeks, then it is essential to seek medical advice. Along with medical treatment, you can also ask your doctor about alternative cough treatments you can do at home. In situations like these, you might have had your grandmother or your mother still reach out to use honey whenever they hear you cough or observe that you have a sore throat. Even today, many home remedies for coughs are honey. 
For thousands of years, Ayurveda claimed the healthy and nutritional benefits of honey. Honey in general consists of antioxidants, antibacterial, and antimicrobial properties that helps calm and soothe the throat, relieving it from irritation and dissolving mucus.
However, recently Western medical experts have also backed the claim - "Honey is better than usual care for relieving the symptoms of upper respiratory tract symptoms, especially cough." As per the recent studies carried out by the University of Oxford, they have suggested that honey is a better cure for treating coughs and colds than your other retail drugs. 
A study on treatment for night-time coughing in children was carried out among three groups, first group was compared with dark honey, second group with the cough-suppressing medication - dextromethorphan, and third was given no treatment. Although the benefits of honey over the medicine were small, parents rated honey as the most favourable natural expectorant. 
However, this is not the first time that science claims the use of honey for colds. Scientists in the past as well, have praised honey for its antimicrobial and antioxidant properties.
In 2014, another study was carried out in which three types of honey were tested - eucalyptus, citrus and mint, against coughs triggered by upper respiratory infections. The researchers found that all three types of honey were better than the placebo in mitigating cough severity and its frequency. Parents and children also reported that they slept better at night with the honey than the placebo. 
But why is Eucalyptus honey the best cure for cough?
Eucalyptus Honey is known to be rich in antioxidants, nutrients, flavonoids and healing compounds, and regular consumption of this honey will keep you healthy. Compared to other mono-floral honeys available, our dehumidified Eucalyptus honey contains more vitamin C and vitamin B9. Unlike most honeys, eucalyptol - a component available in several brands of cough suppressant and mouthwash, controls the hypersecretion of airway mucus and asthma by inhibiting anti-inflammatory cytokines. It is a compound that gives Eucalyptus Honey its distinctive aroma and taste, and is itself a powerful anti-inflammatory agent that increases the medicinal power of this honey.
Eucalyptus honey is often used very effectively in treating coughs and colds as well as upper respiratory infections. The properties of eucalyptus have potent expectorant power that helps in clearing the mucus and makes it an excellent decongestant.
How to take Under The Mango Tree's Honey?
You can take honey in different ways as needed. Below are few ways to consume honey or add honey  in your day-to-day routine. 
You can consume honey by just eating a spoonful of it. 

When you wake up in the morning, drink a mixture of warm water and honey on an empty stomach. This will help keep you alkalised and energetic!

A warm glass of milk with honey before bedtime, helps in better sleep quality. This remedy is backed by

science

too! 
Honey also contains vitamins, minerals, and amino acids that help in the absorption of fats and cholesterol, thereby preventing weight gain.
As the antibacterial properties in honey help to fight against infections and bacterias that cause the problems, the duo of lemon and honey is a well-known and highly consumed mix for sore throat. 
Take 1 tbsp cider vinegar, 1 tsp of lemon juice, 1-2 tbsp of honey, and mix it into 150ml of hot water. 

Keep stirring the mix until the honey is dissolved. 

If you can't prepare toddy for instant relief, you can drink this as a gargle or simply sip it. 
Following the Ministry of Ayush's recent self-care measures for COVID-19 and with the pandemic still lingering around, it is time to boost our immunity and keep colds and coughs away. UTMT's ready-mix Organic Turmeric Kadha sourced directly from farmers combines the strength of Turmeric and Pepper with the power of Ginger, Clove, Cinnamon and Tulsi. A remedy for dry cough:
Add a spoonful of UTMT's Turmeric Kadha to a cup of warm water or milk. Or give a boost to your herbal tea. 

For an energizing boost - add some of Eucalyptus Honey! 
For the Adults in the Family
To make your spirits more healthy, and fun:
Add 2 tsps of honey in 150ml boiling water. 

Once the honey is dissolved, add 2 tbsp of whiskey and 1 cinnamon stick.

Leave the mix for 2-3 mins and then remove the cinnamon stick. 

Add a thick slice of lemon. 

Sprinkle your drink with freshly grated nutmeg and tada your drink is ready!
The American Heart Association advises on limiting added sugars to about 30 grams a day, so if you are consuming honey just on the go, make sure your honey intake is less than 6 teaspoons.