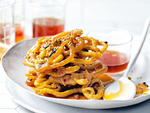 Dussehra is just around the corner, and it reminds you of the long rush outside the sweet marts to buy jalebi and fafda! We bring to you a healthy sweet, substitute to sugar, in this yummy recipe, shared by a fellow consumer, Divya Jain. 
Ingredients:
For the batter:
1/2 cup plain flour

1 tbsp chickpea flour (besan)

1/4 tsp baking powder

1/4 cup apple juice

2 tbsp plain water (or little more, depending on consistency)

Canola oil, to deep-fry
For the syrup:
pinch of saffron threads

1 cup water

1/2 cup Organic certified honey

2 whole cloves

1 tbsp cardamom pods

½ lemon juice

few edible rose petals
Method:
The batter for Jalebi needs to be prepared one night in advance. To

make the batter - mix maida, besan, baking powder, apple juice and water in a vessel.. Cover the vessel and set it aside at room temperature overnight to rest. 

The day after, transfer the batter into a squeezy bottle.

To make the jalebi honey syrup, boil 1 cup of water. Add a pinch of saffron and set it aside for 10 minutes to let the saffron  infuse. Add honey, cloves and cardamom to the water and cook the water on slow flame for 5 minutes or until it reduces to half. Take the pan off the gas and add the lemon juice and add rose petals. Stir and set aside.

Next, in a pan, heat oil on medium flame. Squeeze the batter into the oil in long spirals, working from the inside out. 

Deep fry on both sides for 2-3 minutes or until the jalebi turns golden. Remove the jalebi, drain it with a slotted spoon and dip the jalebi in the prepared syrup for a minute. 

The yummy jalebi is ready to eat!